West Jordan Elementary SCC Mission Statement
 WJE SCC strives to empower our students by enhancing their knowledge, effective problem-solving skills, and desire to become lifelong learners. We are dedicated to encouraging our school community to stay actively involved and informed on the school's greatest academic achievements as well as needs.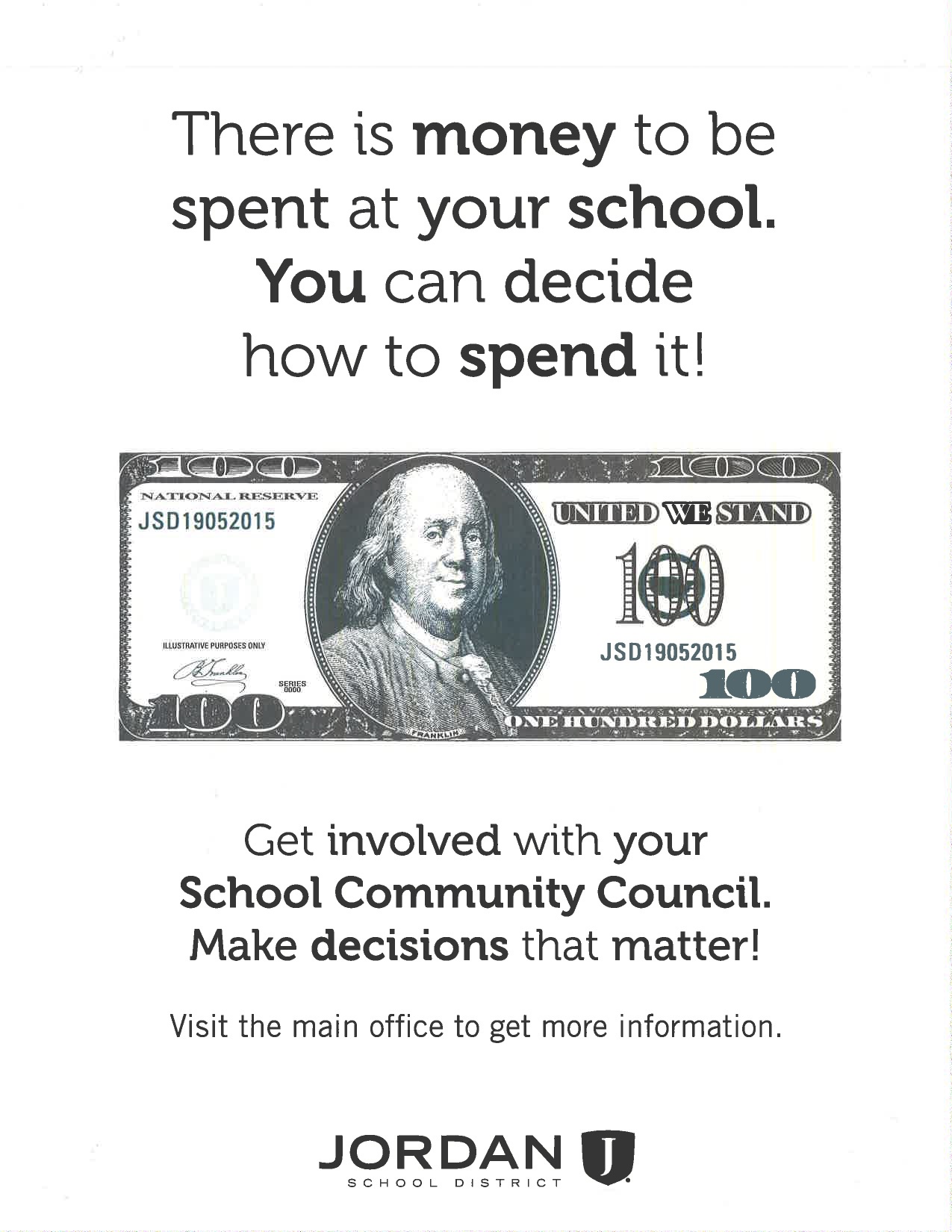 ---
What is the School Community Council
The School Community Council a group of parents, guardians, teachers, and school staff who are elected to represent the greater school community.  Some of the responsibilities of the SCC are to review, discuss and approve of academic improvement plans, staff development plans, allocation of LAND Trust money and to provide a forum for community discussions of school-related concerns.
---
Why Community Council
If you have a concern, opinion or suggestion relating to:
Curriculum
Student activities
Transportation
Building maintenance
Proposed boundary changes
Student safety
Legislative issues
Any other issues
We can help!  This is the place to express your feelings and to work for positive changes in our school.  Please let your voice be heard.  (While decisions regarding Jordan School District policies, budgets, laws and personnel issues are not things we can change, we can pass on concerns about these to the School District.)
---
SCC Notes
Below are the amounts of funding West Jordan Elementary has received from the School Land Trust Funds:
| | |
| --- | --- |
| Actual Funding 2015-16 | $32.869.00 |
| Actual Funding 2016-17 | $34.934.00 |
| Actual Funding 2017-18 | $43,890.00 |
| Actual Funding 2018-19 | $51,261.00 |
| Actual Funding 2019-2020 | $40,807.00 |
| Actual Funding 2020-2021 | $47,592.00 |
| Current Funding 2021-2022 | $59,211.00 |
This money is being used to fund intervention aides in both math and reading.
SCC Meeting Schedule 2021-2022
SCC Meeting Schedule 2020-2021
(Rules of Order for SCC Meetings)
All meetings will be held in the media center at 4:00 pm.  This is an open meeting and community members are welcome to attend and give input.
All community members are invited to attend any council meeting, but only council members are allowed to vote on items.
---
Community Council Members
How do I voice my concerns or find out more information?
Come to a School Community Council Meeting.
Ask for the School Community Council Binder in the office.  It contains agendas and minutes of past meetings, as well as information on the CSIP, LAND Trust Fund, Traffic Safety Routing plan, etc.
Contact a member of the SCC.  A complete list of members can be found above,  or in the office binder.  They are there to represent you and can put items on the agenda.
---
Final Land Trust Report
Click on the link below to review the Final Land Trust Report for the 2018-19 school year.
WJE Land Trust 2019 Final Plan (1)
---
TSSA Plan
---
Land Trust Plan