West Jordan Elementary Bedtime Story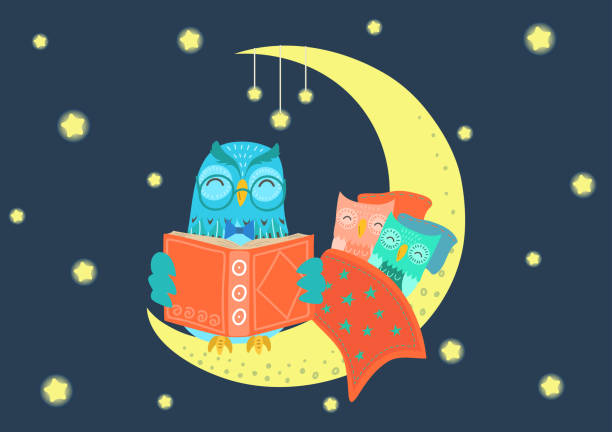 Educational Links
Google Classroom Help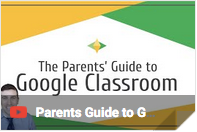 Quick Chromebook Help for Submitting work and taking images or Videos.
→To assist parents and students with at-home, digital learning, Jordan School District has established a Student and Parent Technical Support Hotline number (801) 567-8999.
The hotline is available from 8 a.m. to 4 p.m. Monday through Friday (except April 9 and 10) for anyone in need of technical support for Google Classroom, Canvas, Chromebook, internet, etc.
To connect to our own school tech or our Digital Learning Specialist follow the directions below:
School Tech - Option 3, Option 1, Option 3
Digital Learning Specialist - Option 2, Option 1, Option 2
read and write for Google Chrome Tutorial
If you are looking for some more information to help your student with google classroom, it has arrived. Click on the icon above to watch a video about google classroom. The blue link above is for help with Google read and write.
---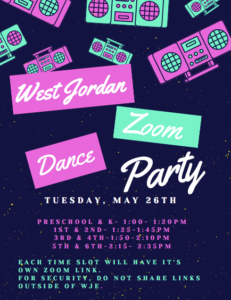 ---
Dear Parents,

It's almost time to sign off this school year, so let's do it with loads of fun, laughter, and smiles! We all would agree that this school year has been unique. At West Jordan Elementary, we have decided to make the end of this school year unique as well with lots of exciting virtual activities.

End of year CELEBRATIONS

Monday, 18th: Bedtime Stories from Ms. Ludlow and Mrs. Shah

Tuesday, 26th: Virtual Dance Party (Staggered by Grade, flyer attached)
Wednesday, 27th: Student Art Show video (posted to Google Classrooms)
Thursday, 28th: Scavenger Hunt with Ms. Crump (posted to Google Classrooms)
Friday, 29th: Class Activities (Teachers will announce activities and times)

Monday, 1st:   School-Wide Talent Show video (posted to Google classrooms)
Tuesday, 2nd: Virtual Meet Next Year's Teacher Activity
  First Grade:  9:00 am
  Second Grade: 9:30 am
  Third Grade: 10:00 am
  Fourth Grade: 10:30 am
  Fifth Grade: 1:00 pm
  Sixth Grade 1:30 pm
 (Your family will receive an email with instructions on where and how to log in on June 1st. Incoming kindergartners are not included in this activity.)
Wednesday, 3rd: End of Year Video (posted to Facebook/Google Classroom)
Wednesday, 3rd: Last Day Teachers will present live lessons
Thursday, 4th: Chromebook Check-In (see below)
Friday, 5th: Chromebook Check-In
Monday, 8th: Chromebook Check-In

Grade level talent shows are scheduled throughout this month as well.

Chromebook return/personal item pick up is scheduled from June 4th to 8th. You will sign up for an appointment on Skyward just like you would sign up for Parent-Teacher Conferences. We will send out instructions for signing up on Monday of next week (May 18th). If your child checked out other materials, including math books or Journeys books, those are due at this time as well.

Teachers will continue posting activities for students, including live math reviews, through June 3rd. If your child has missing assignments, they have through the week of May 26th-29th to get caught up on assignments that are receiving grades. Please ask your child's teacher for help if they have work to make up. Report cards will be available for pickup at the same time as the Chromebook/personal items pickup appointment.

We are grateful to our parents and our community for their unconditional support for our school and look forward to all the exciting celebrations planned as we bid goodbye to this unusual 2019-20 school year.

Sincerely,

Jennifer Ludlow
Ami Shah

---
Jordan School District
School Dismissal Extended For Remainder of 2019-2020 School Year
Dear Parents,
Governor Gary Herbert announced today that the school dismissal for all Utah schools will be extended for the remainder of the 2019-2020 school year to help prevent the spread of COVID-19.
This means Jordan School District schools will not be in session for the remainder of the 2019-2020 school year. Student learning will continue at home for all students through the end of the school year.
We sincerely appreciate how hard students, parents, families, teachers, staff, and administrators have worked to provide a quality education through these difficult times. At the same time, we recognize that the most important thing for everyone to do right now is to focus on their personal health and well-being and the health and well-being of their loved ones. We hope these guidelines will help as you navigate the remainder of the school year. 
A video message from the superintendent regarding school dismissal can be accessed from jordandistrict.org.
Please note the following (details below):
No new assignments will be given after May 22, 2020.

Grades and credit will still be issued, but with certain modifications in order to be sensitive to the difficulties students may encounter as a result of at-home learning.

Arrangements will be made for parents and students to return and retrieve items from the school by appointment.

Options for graduation are still being explored.

Registration for next year will continue online.
End-of-Year Calendar
No new assignments will be given after May 22, 2020.

Schools will send out additional information regarding procedures for the end of the school year.

Schools will set appointments with parents and students to return and retrieve items according to the procedures described below.
Elementary School Grading
Report cards will still be issued.

Because teachers have focused on essential standards, some standards listed on the report card may not be covered.

If enough evidence of student learning has not been gathered for a particular standard, that standard may be left blank on the report card.

Grades will not be reduced for the last grading period.

Citizenship grades will not be recorded for the last grading period.

Parents should contact teachers or administrators with questions or concerns about grades.
Returning School Property
Elementary schools may begin to schedule check-in of Chromebooks, textbooks, and other items on June 1, 2020. 
Registration for the 2020-2021 School Year
Registration for the coming school year will take place online.

Students changing levels (from elementary to middle or from middle to high) will receive registration information from their boundary school or from the school where they have been accepted on permit.

If you have questions, please contact the school.
Additional Information
---
Breakfast and Lunch Updates
 lunch will only be available at a limited number of elementary schools. Please see the list below. Meals will be FREE for ALL children age 18 and under. No student numbers or payment will be required. Federal rules require that children be present to receive a meal. Adults may not purchase a meal. Free lunch and a take home breakfast for the following day (11:00 a.m.-12 p.m.) will be available for all children starting on Monday at the following schools:
Bluffdale Elementary School
Columbia Elementary School
Copper Canyon Elementary School
Eastlake Elementary School
Foothills Elementary School
Heartland Elementary School
Majestic Elementary School
Oquirrh Elementary School
Riverside Elementary School
Southland Elementary School
South Jordan Elementary School
Terra Linda Elementary School
Westvale Elementary School
**The district is sending buses into neighborhoods as secondary sites for free lunch. A location that might be helpful to our families is Camelot Park. The bus is there from 11:35 to 11:55. Meals are free for all children ages 0-18, but the child must be present. You can pick up lunch for the current day plus breakfast for the next day, Please take advantage of this amazing opportunity, and help me spread the word!
---
Kindergarten Registration
Parents you can still register your child for kindergarten

 

2020-21 school year. Pre-registration is required by the district this time of year so that we can better assess the faculty needs of our school.
Here are a few things you should know:
If you have a child that will be five years old on or before Sept. 2, 2020, this child qualifies for next year's Kindergarten program. 

You will need an Original Birth Certificate. The school will make a copy for your student's educational record.

Your Child's legal name (the name that appears on the Birth Certificate) will be used on all official school records.

You will need a copy of a current immunization record to show proof that your child has been immunized against communicable diseases including measles, mumps, polio, etc. for more information visit:  http://edsupport.jordandistrict.org/nursing/immunization/
Kindergarten Orientation




Postponed until further notice



---
School Musical
West Jordan Elementary is proud to present: Disney's Lion King Kids
Show times have been postponed until school resumes and is rescheduled. 
---
West Jordan Elementary PTA needs your help!
We are looking for two people to volunteer to be Vice President and Secretary for the 2020-2021 school year! If you  or someone you know would be great for this, please contact Candace Fleming at 801-707-0548. Thanks for all of your help!
---
Mission Statement
At West Jordan Elementary we empower students to reach their potential and become lifelong leaders and learners.
Want more information about the PTA? Check out our West Jordan Elementary Facebook Page